 BMAT Book
BMAT Book
[two_third last=""]
Score Boosting Strategies
Powerful tips and techniques to allow you to answer questions more quickly and accurately
Over 300 A4 Pages
600 practice Questions so that you get the maximum amount of practice
Fully Worked Solutions
Detailed answers to all MCQs so you can see the best ways to approach every question
With Over 300 Pages, The Ultimate BMAT Guide is the most comprehensive BMAT book available. Written for the 2017 Entry, it contains powerful time-saving strategies that will allow you to answer difficult questions within the time limit as well as a massive 600 Practice Questions written in the style and difficulty of the real exam. Each question comes with Fully Worked Solutions that guide you through the most efficient way for getting the correct answer as quickly as possible.
With contributions and advice from over 15 Specialist BMAT Tutors, this is your ultimate companion to the BMAT and a MUST-BUY for those looking to do well in the exam.
The Ebook is emailed automatically after checkout. Paperbacks are posted within 5 working days.
[/two_third]
[one_third last="column-last"]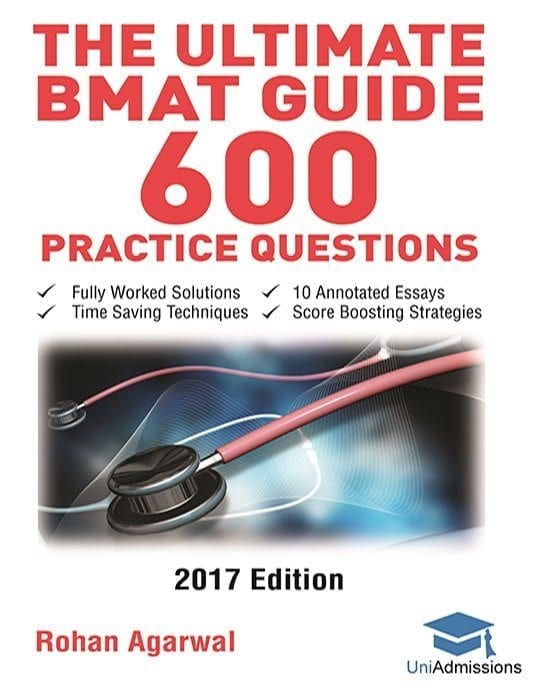 [/one_third]
Customers Reviews
[su_testimonial name="Sachin, 1st year Medical Student at Cambridge"]If you buy only one BMAT book – make it this one. It has the most questions, lots of model essays and detailed solutions. [/su_testimonial]
[su_testimonial name="Camilla, Parent of Successful UCL applicant"]An excellent resource – my daughter hadn't done physics at AS and found the physics section particularly helpful – especially the list of "essential equations".[/su_testimonial]
[su_testimonial name="Deborah, Head of Careers at an independent school"] The gold standard of BMAT preparation – we buy copies of this book on an annual basis for all of our students.[/su_testimonial]
[blank height="10px"][/blank]
Buy Now
Additional Information
| | |
| --- | --- |
| Version | Ebook Only (£14.99), Ebook + Printed- UK Delivery (£29.99), Ebook + Printed- International Delivery (£39.99) |